By the numbers: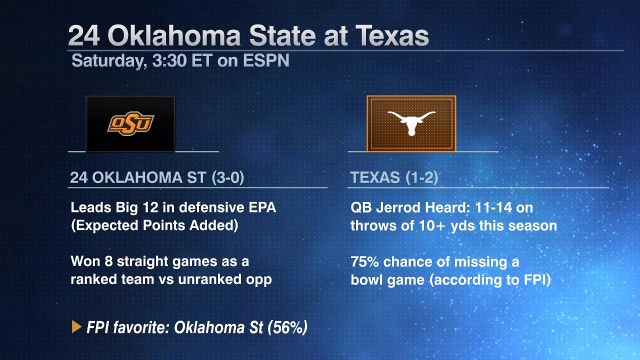 Keys To The Game
DEFENSE: CONTROL MASON RUDOLPH
With Texas entering Big 12 play, it is critical that Strong and Bedford identify and implement ways to get pressure on the quarterback. Mason Rudolph has thrown for 947 yards and 5 touchdowns with 69% accuracy in his first three games, and he'll be looking to do more of the same against a Texas defense that has been repeatedly gashed and beaten in man-to-man coverage. The good news? Rudolph is not a threat to run on the ground, which means Malik Jefferson will not have to worry about spying on the quarterback on early downs. Texas will have Dylan Haines back and providing help on the back end, but there is still a chance they will not enjoy the services of Jason Hall (shoulder) who is still banged-up after last week's game.
To stop the Cowboys' passing game, the Texas linebackers will have to remain disciplined in zone coverage and take precise drops to make Rudolph's throws as tough as possible. Rudolph is completing 78.9% of his passes off of play-action, fifth-highest among all Power 5 quarterbacks. He also leads the country in completions of 20+ yards (13) and yards-per-attmpt (17.3). For its part, the Texas defense is allowing opposing quarterbacks to complete 74.3% of play-action passes, the fifth-highest rate in all of college football. If Oklahoma State gets its run game going early, Rudolph and his partner-in-crime David Glidden will have a field day picking apart an inexperienced Texas secondary on plays like this:
Glidden is a matchup nightmare in man coverage - think Wes Welker, but faster. He averages 23 yards per reception, lines up in the slot, and will give Duke Thomas one of the toughest tests of his career, particularly in the red zone where he has caught three of Rudolph's five scoring tosses so far this season.
OFFENSE: NEUTRALIZE EMMANUEL OGBAH
Ogbah is the reigning Big 12 Defensive Lineman of the Year - he won the award last year in a conference featuring the likes of Malcom Brown, Shawn Oakman, Jordan Phillips, and Andrew Billings. No small feat, especially when you consider that Ogbah has actually raised his level of play since then. The leader of Oklahoma State's defensive front, Ogbah has racked up 3.5 sacks in 3 games. He'll face off against left tackle Connor Williams, and the junior end has to be licking his chops at the thought of going up against an inexperienced true freshman starting only his fourth college game. Ogbah is a strength over speed player who can line up at the 3-tech position as well as defensive end. While he's not particularly fast in open space, he has a devastating swim move which he used to great effect last season, winning a large percentage of one-on-one battles.
As a whole, Oklahoma State's defense is averaging 12 pressures (hurries/sacks/knockdowns) per game this season, fifth-most among all Power 5 programs. The Cowboys also rank 3rd in the Big 12 in adjusted defensive efficiency. Point is, they get to the quarterback early and often. For this reason, Ogbah vs. Williams in the trenches is the key matchup that may very well decide the outcome of the game. If Ogbah can be prevented from wreaking havoc in the backfield, Texas will be able to get the run game going and take the pressure off Heard early.
SPECIAL TEAMS: GET DAJE JOHNSON LOOSE
As much press and attention as Heard gets, Daje Johnson represents one of the biggests cogs of the Longhorns' offense. The dynamic speed burner seems to have finally tapped into his immense potential, and is averaging a stunning 18.1 yards per touch through Texas' first three games. He leads all Longhorns with 190 yards receiving, and is averaging over 24 yards per punt return. Last week, Johnson did major damage to California's secondary on wheel routes and jet sweeps, taking advantage of Cal's inability to play sound assignment football on defense. He was also such a danger on punt returns that Cal absolutely refused to kick to him, instead using pooch punts by Jared Goff to routinely pin Texas inside the 20-yard line. Oklahoma State junior safety Jordan Hearns will likely draw the responsibility of covering Johnson in the deep, and he is a far more experienced and talented safety than any of Cal's counterparts - so Johnson will have to bring his A-game if he hopes to have another breakout performance. Oklahoma State's gameplan for Johnson - angle kickoffs away from him and to Johnathan Gray, while covering up Johnson with Hearns on long routes - means Johnson will have to play closer to the LOS, run crisp routes, and catch everything thrown his way if he hopes to have an impact on Saturday. That means no dropped screen passes. Oh, and maybe throw in one of these for good measure on punt returns:
DEFENSE: SLOW DOWN THE GROUND GAME AND GET OFF THE FIELD
This key to the game will probably bear repeating every week at the rate the Longhorns are going. After surrendering 280 yards on the ground to Cal, Texas currently ranks 120th in the country (out of 128 teams) in rushing defense. And if that's not bad enough, the Longhorns are last in third down success in the country (63%, up from 35% last year) and are not even close to coach Charlie Strong's goal of 20%. Much of this falls on the defensive line, which has been unable to provide any pressure on the quarterback, and on the talented but inexperienced linebacking duo of Malik Jefferson and Edwin Freeman, who have repeatedly made mistakes in coverage and in gap technique. This point has been repeated ad nauseum by every sports writer from San Diego to Saskatchewan, so I won't elaborate further (see Wescott's article on the subject for further in-depth information). Whether it's going away from the 3-3-5, moving John Bonney to the nickel and shifting Duke outside, or playing more bump-and-run coverage, Texas has to find a way to get off the field on 3rd down and long.
"What's happening right now is too many conversions, whether it be missed sacks or not getting pressure or missed tackles. We've got to get off the field on third down and give them more opportunities to take the ball." --Charlie Strong
For the Longhorns' to get off the field after 3rd down, they will have to neutralize Oklahoma State's sensational running back Chris Carson, who has rushed for 235 yards in 3 games.  Needless to say, stopping Carson will be easier said than done for the Longhorns' beleagured defensive front.
OFFENSE: KEEP JERROD HEARD TWO-DIMENSIONAL
No elaboration needed. Heard has thrived in Norvell's new spread option offense, and last week he exploded for a stunning 527 yards of total offense and 3 touchdowns against an overwhelmed Cal defense. One of the keys to this game will be Heard's ability to throw downfield and force Oklahoma State's linebackers to drop back in coverage and respect him as a passer. Of course, OSU's defensive coordinator Glenn Spencer will be tasked with creating a blueprint for stopping Heard. Most likely, his plan will involve letting the linebackers play up on the LOS and forcing Heard to throw the ball under pressure. Heard has been excellent on deep throws so far this season - he is 11/14 on throws of 10 or more yards. If Heard can successfully continue this success against a strong Cowboys' secondary, he will force Oklahoma State's linebackers to drop back more often into coverage, exposing running lanes and allowing him to be two-dimensional. If the Texas offensive line can't give Heard the time he needs to set and make those deep throws... it'll be a long day for the Longhorns' offense.
PREDICTION
Much like the Notre Dame game, this contest will boil down to which side can control the ball and force the other team out of its rhythm. Heard is the X-factor for Texas' offense, but Mason Rudolph is more than capable of keeping pace with Heard through the air, and Oklahoma State has the clear defensive advantage here. Look for Texas to keep it close until halftime, then run out of steam in the 3rd quarter as the Cowboys' defense adjusts.
Final Score: Oklahoma State 35, Texas 31